September 1, 2021 — 4.16pm
https://www.smh.com.au/sport/world-s-second-tallest-man-is-competing-for-iran-at-the-paralympics-20210901-p58nwr.html
Tokyo: There are nearly 8 billion people in the world. The second tallest of them all is an Iranian man in Tokyo spending most of his time sitting on a Paralympic volleyball court.
Meet Morteza Mehrzad, whose sitting volleyball team will play in their semi-final against Bosnia Herzegovina on Thursday.
He is the Tiger Woods and Roger Federer of his sport, for a reason that isn't hard to work out.
Mehrzad is a whopping 246 centimetres tall, equivalent to eight feet one inch.Advertisement
To put Mehrzad's incredible frame into perspective, the height of a standard door in Australia is 204cm, and the winning gold medal jump in the men's high jump at the recent Olympics was 237cm.
Mehrzad is the equal second-tallest living man in the world, behind Turkey's Sultan Kösen.
But like so many individuals well over two metres tall, Mehrzad's upbringing was difficult. He attributes sitting volleyball as the light that saved his life after having few friends as a child due to his disability.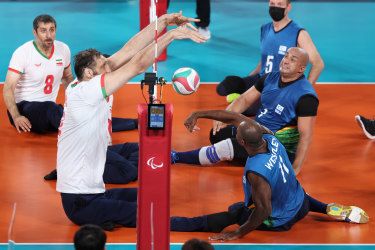 In 2011, five years before the Rio Paralympics, Iran national coach Hadi Rezaei was watching a television program in his home country that highlighted people with a physical impairment and unusual talents.Advertisement
Rezaei quickly got in contact with the television network about Mehrzad, who appeared on the program. He had been diagnosed with acromegaly at a young age – a condition that causes the body to produce too much growth hormone.
At age 16, Mehrzad fell off a bike and fractured his pelvis, which caused his right leg to stop growing, and the limb is now 15 centimetres shorter than his left leg. He has to use a walking stick.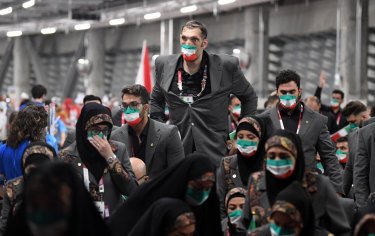 "It is my duty as a coach to discover players, to find talents and teach them," Rezaei said this week in Tokyo.
Rezaei convinced Mehrzad to take up sitting volleyball, a Paralympic sport for individuals who have various impairments, and by 2016 he was in Iran colours.