Wed 25 Jul 2018, 15:00 
https://www.diemernieuws.nl/nieuws/sport/104334/paravolley-dames-nl-met-paula-list-8e-op-wk-zitvolley
Google Translated Text.
DIEMEN – They advanced to the quarterfinals of the Sitting Volley World Cup, but the Dutch sitting volleyball players did not win that match against Italy. In the Nieuwe Luxor Theater in Rotterdam, the sitting volleyball players played two more matches after the quarterfinals and finished eighth in the tournament.
In the group matches, the Dutch ladies won all three matches against Croatia, Rwanda and Canada.
Quarter-finals
In the quarter-finals, the sitting volleyball players were no match for Italy. A place in the top four was lost and the ladies had to recharge for the matches for place 5-8.
Eighth
Unfortunately, Ukraine and then Canada proved stronger in those matches and so the World Cup ended in eighth place.
Original text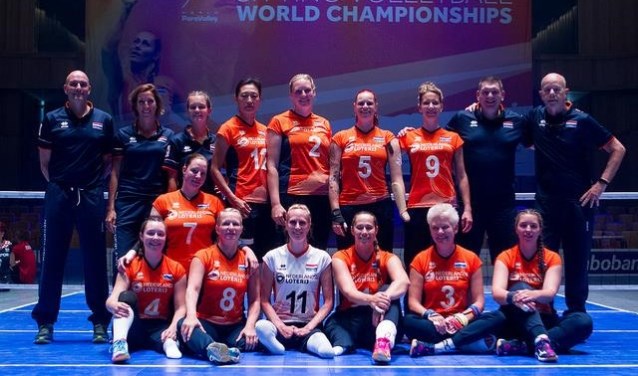 Het Nederlandse damesteam, Paula List zit op de onderste rij, derde van links (nummer 8). (Foto: Paravolley Dames NL)
Paravolley Dames NL met Paula List 8e op WK Zitvolley
wo 25 jul 2018, 15:00      Sport
DIEMEN – Ze stootten door tot de kwartfinale van het WK Zitvolley, maar de Nederlandse zitvolleybalsters wisten die wedstrijd tegen Italië niet te winnen. In het Nieuwe Luxor Theater in Rotterdam speelden de zitvolleybalsters na de kwartfinale nog twee wedstrijden en eindigden als achtste op het toernooi.
In de groepswedstrijden wonnen de Nederlandse dames nog alle drie de wedstrijden tegen Kroatië, Rwanda en Canada.
Kwart finale
In de kwartfinale waren de zitvolleybalsters niet opgewassen tegen Italië. Een plek bij eerste vier was daarmee verkeken en de dames moesten zich zien op te laden voor de wedstrijden om plaats 5-8.
Achtste
Helaas bleken Oekraïne en daarna ook Canada in die wedstrijden sterker en dus werd het WK met een achtste plek afgesloten.