http://www.tehrantimes.com/news/422933/Iran-sitting-volleyball-overpower-the-U-S-at-World-Super-6
Iran sitting volleyball overpower the U.S. at World Super 6
April 23, 2018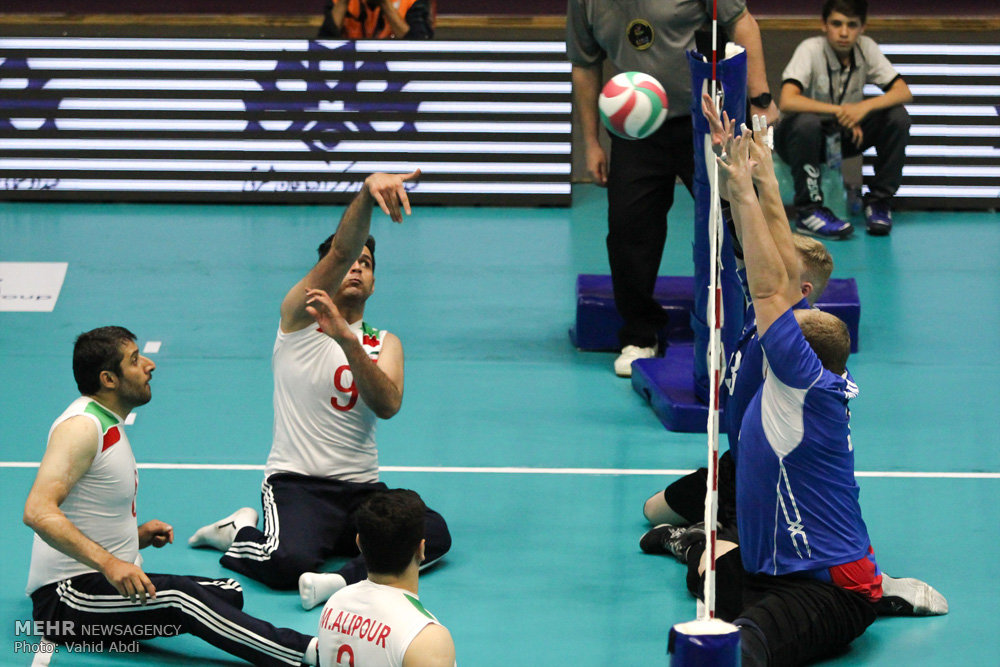 TEHRAN – Iran national sitting volleyball team swept past the U.S. in straight sets (25-14, 25-18-25-17) in the World Super 6 on Monday.
Team Melli extended their winning streak in the competition to five games at the Sadra Sport Complex in the northwestern Iranian city of Tabriz.
Iran started the event with a 3-0 win over Russia and beat Bosnia and Herzegovina 3-2 in their second match. Iran also defeated Ukraine and Germany in straight sets.
Hadi Rezaei's men will play Russia on Tuesday in the final match.
Six of the world's best male sitting volleyball national teams participate at the Super 6 from April 19 to 24.
This is the second edition of the international competition, which only included women's teams last year and saw Russia taking gold in Hangzhou, China.
The event features reigning world champion Bosnia and Herzegovina, Paralympic gold medalist Iran, world No.6 Germany, No.9 Russia, No.5 Ukraine and No.8 USA.
Wednesday, April 25, 2018
Iran sitting volleyball team beat the US to maintain its winning streak at the World Para Volley Men's Super 6 in Tabriz, East Azarbaijan Province, on Monday.
The team asserted its dominance over the game with a 3-0 victory against its rival, IRNA reported.
Iran finished the first set 25-14 to mark an eleven-point gap with its opponent. In the second set, the Americans improved their performance to score 18 points but yet again it was not enough to match the Iranian side.
In the third and last set, Iran scored the final point while the US had only 17 points on the scoreboard.
It was the fifth consecutive win for Iran at the six-team tournament. In another match, Russia beat Ukraine 3-1.
Earlier Iran defeated four other participating teams. The national squad was victorious against teams from Germany, Ukraine, Russia and Bosnia and Herzegovina.
The six-team tournament kicked off on April 19 and ended Tuesday. The final math was held between the top two teams, namely Iran and Russia on Tuesday evening; however, the result of this game was not clear when the paper went to print.
A total of $22,000 will be given in awards to the top three teams and the best players will receive cash prizes