https://hivisasa.com/posts/sitting-volleyball-federation-team-kicks-off-recruitment-trials
Sitting volleyball federation team kicks off recruitment trials
15/12/2017 James Mwiti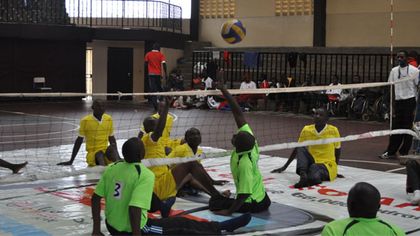 National sitting volleyball federation has kicked off a national trial to recruit new players at Kasarani stadium in Nairobi.
The trials will end this Saturday as the national team prepares for next year's season.
After featuring in Africa sitting volleyball cup cum world championship qualifiers in Rwanda, where Kenya finished in the fourth position, the Kenya sitting volleyball federation has embarked on preparing the national teams for next year.
The federation through its officials has invited six nations to feature in an international friendly that will be used to select Kenya players who will join the national side.
Already Tanzania and Iraq teams have arrived for the friendly matches.
England, Uganda, and Sudan teams are scheduled to arrive tomorrow.
The teams will compete in volleyball, handball, badminton, and soccer.